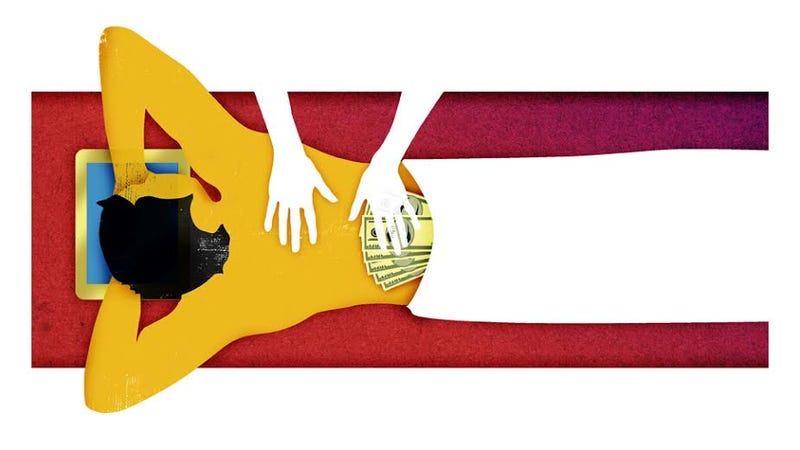 If you want to join the private, ultra-exclusive, members-only CORE: club, situated in the heart of Manhattan and thus the seat of all culturally relevant power, then you'd better get in line. Have you done that? Gotten in line? Good, and congratulations: you've flunked the application process. Nobody worthy of CORE: membership would ever think of standing in line. What do you think this is, Disney World? CORE: is not Disney World, my friend. If it were, you'd be able to take a bottle of Patrón Silver on Space Mountain. Think bigger. Reach for the stars.
No, CORE: club is a lot more like where you went to business school — assuming you went to Wharton, I mean, not some accredited trailer park like the University of Virginia. Only difference is there aren't any scholarships for middle-class people: we're talking $15,000 in annual dues, plus a $50,000 initiation fee (we're too busy for proper hazing — get over it). Around here you never have to put your iPad away, and certainly not in the middle of a cutthroat trade. What am I even telling you this for? I'll bet your MBA program had a softball team, didn't it? And you got together for little barbecues where you drank non-bespoke beers. Go ahead and pat yourself on the back.
Of course, you don't have to be wealthy to join CORE: — you can also be wealthy and famous. A very specific kind of famous, though; ideally, you'd be famous for being wealthy, and the rest of us could stare jealously at you from across the library, at least when we aren't using it for naked wrestling. At a bare minimum, you should be wealthy enough to consistently over-tip your favorite masseuse, to the degree that even the most corrupt hedge-funders can't buy him out of an appointment with you. If you're famous, though, you may as well just seduce him. It's not like he'll put up much of a fight, you know.
Oh, yes, we have such a lot of fun at CORE:. We're not like those stuffy Metropolitan or Harmonie clubs, old-world ballrooms where you go for a bland supper on the Jewish High Holidays just to hear some 105-year-old woman complain that you left your shirt collar open and aren't wearing a tie. But at CORE:, there's nothing wrong with exposing a seductive slice of chest hair. CORE: is also infinitely more inclusive than the average New York social scene: almost any kind of millionaire can be accepted, as long as they're not uncool or out of the loop — or both, i.e., baby boomers. Baby boomers need not apply.
Why is every letter in CORE: capitalized? What is the point of that colon? If you have to ask, you don't deserve our company. Frankly, you sound like someone who doesn't even get art, which we totally do, mainly because we can afford it and have some hanging around. It's there to be enjoyed along with your Kobe beef sliders — in fact, most of it was picked by a culinary decorator expressly because it paired nicely with the Kobe beef sliders. Don't tell me you've never heard of a culinary decorator before. Honestly, it feels like you should be parking my vintage convertible. The one without seat belts.
I know it seems like a lot to take in right now, but don't worry, the introductory packet will cover everything from chartering flights with XOJet (when you don't want to use your own Gulfstream IV) to purchasing an Officine Panerai wristwatch, the official CORE: club timepiece. That last part is important because we're on tightly synchronized schedules when it comes to things like spinning class and the weekly human sacrifice.
But you didn't hear that. Besides, no one will believe you. Not if you don't belong to CORE:. Now apologize for reading this.
Image by Michael Erazo-Kase
Miles Klee is a reporter for The Daily Dot and author of the novel Ivyland, a finalist in the 2013 Tournament of Books. His work has appeared in Vanity Fair, Lapham's Quarterly, BlackBook, The Awl, Salon, The Village Voice, The New York Observer and elsewhere.
Read more Good To Be Bad here.

This post is a sponsored collaboration between Jaguar and Studio@Gawker.