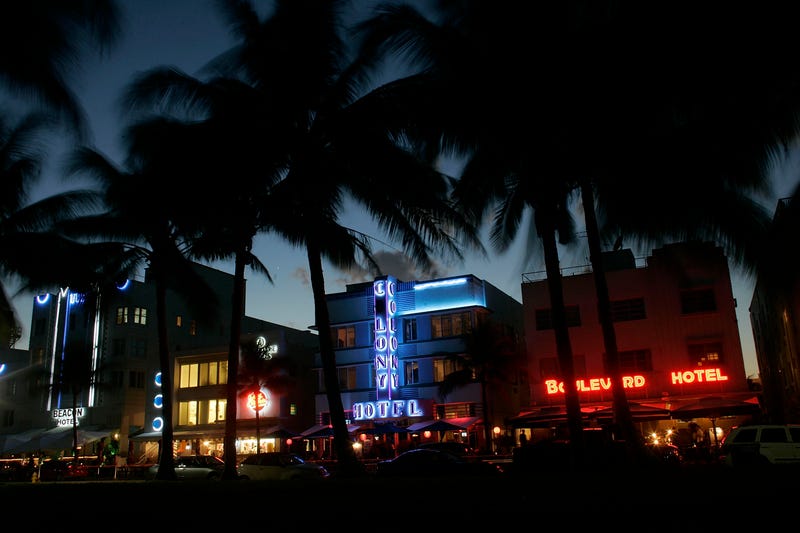 At a certain point, the warm and agreeable excess embraced by Art Basel Miami Beach took on a distinctly darker tint. I can't say I minded the sense of danger, really, but it was palpable. By the time the weekend rolled around, Miami's underbelly — warring celebrities, men on the lam from the police, disillusionment with the art on display, flashy cars barreling super fast over bridges, fatigue from flirting with iPad-wielding door girls, late nights that turned into mornings — began to stain the pristine beaches.
Perhaps it began with a phone call I received while in line at Enriqueta's, a mecca of Cuban food in the heart of Little Havana. It was a friend, Ray Lemoine, calling to say he had left his mansion on Star Island, the luxury atoll between Miami Beach and the city proper, because he was on the run from the authorities. They wanted him because Paris Hilton's brother, Barron, had gotten in a fight at Ray's house.
"I might be in some trouble," Lemoine said.
I assured him everything would be OK. I know Ray well, and though he has a reputation for courting skirmishes with the rich and famous, he's always been smart and nimble enough to escape unscathed. This time there was a caveat: Lindsay Lohan — who, as I've learned the hard way, can summon trouble with nothing but her presence — was staying with Ray and a few other people in the Star Island estate. Sure enough, a TMZ report soon came out about the Barron Hilton beat down, claiming Lindsay Lohan ordered the hit on the Hilton kid, asking an "accomplice" to carry it out. The accomplice, allegedly, was Ray.
Apparently this had happened the night before, after the VFiles party with a performance by the rapper A$AP Rocky. (I couldn't make it to the show as I was ensconced in a glowing cube of Champagne consumption — perhaps my absence turned out to be for the best.) As the sun came up over Miami Beach, tempers flared over a kid who refused to leave the house, prompting someone to charge him, and flee after pulling the punches. Once the dust cleared, Ray became the suspect.
After lunch, I took my Jaguar XJR (which I have because, well, you know) back to the beach, freshened up and stopped by a gallery on Ocean Avenue for an exhibition of work by KESH, an artist who has worked on clothing lines with American Apparel. Curiously, each painting was on sale for $11,111. No matter. Then it was on to The Standard for the next event, a strange show from outre performance artist Total Freedom. Ray was on the host committee, but surely he couldn't show up somewhere as conspicuous as The Standard given his vigilante status. And so I was again taking in the sweep of The Standard, perhaps the prettiest of all the hotels here in Miami Beach, with a giant swath of Biscayne Bay bookended by two bridges, and Star Island right at the center.
Then I saw Ray Lemoine walk into the party.
"We had to bounce from the house," Ray said, tired and stubbled, with a rapscallion's wily smile, drunk on free Heineken and the elixir of public notoriety.
Despite reveling in the reputation of engaging in fisticuffs with hotel heirs, true or not, Ray is no villain What is he? He's a bar owner, a published author of a book on Afghanistan, and an experienced foreign correspondent. And what actually happened? I bet someone was just trying to get a drunk rich kid to leave his property, as it was well after sunrise following a long night of partying, and things escalated.
Despite the fact that police were combing every club on Collins Avenue trying to nab the Hilton-beating hitman, Ray decided to go out for the night, while I left to grab a few cocktails at the beautiful oak bar in the lobby of the Delano with some friends. Cocktails turned into more cocktails, and at one point I saw a guy at the bar who looked awfully familiar. He reminded me of a certain action blockbuster auteur, a film director of somewhat dubious reputation who makes enormous loud dumb movies — movies I nonetheless love. I realized I had met this man once, at the Victoria's Secret fashion show after-party, where he bought me a $15 vodka soda with a $100 bill, no change needed.
After that man pulled out the same $100 bill to pay for a single drink at the Delano, I approached him.
"I think we've met before," I said.
"So, you've met Michael Bay," Michael Bay said.
I explained the circumstances under which we first chatted, and he immediately remembered, recalling that I loved Transformers: Dark of the Moon but wasn't a fan of Transformers: Revenge of the Fallen. What was he doing in Miami?
"I'm editing the fourth Transformers at my mansion here," he said, bursting with hubris. "Who needs LA?"
I agreed, then excused myself to go back to my friends. Michael Bay invited us to stop by Story, the nightclub, later on. I said I'd try my best.
Instead, we went to the 1OAK pop-up at the FDR room in the Delano, where BULLETT was having a party with young art world superstars like Jeanette Hayes and Petra Collins, and then to Chez Andre, where the dual namesakes (Standard Hotels owner Andre Balazs and Le Baron nightclub kingpin Andre Saraiva) hosted a rager in the Gale Hotel space — which resembled something of a Miami drug lord's man cave, a nice parlor room that nonetheless invited impropriety — that kept going until 7:00 in the morning.
And then on Saturday, after a long drive in the XJR all the way up Collins, to the precipice between New Miami Beach and Old Miami Beach, where the flashy new megapolis hotels segue into the Deco palaces of yore, cream-colored beauties redolent of Sinatra and Dino, of cigarette girls in smoky cabarets, of one-night jaunts to pre-Castro Cuba. Around 6:00, I again went to The Standard for a party celebrating the sin-chronicling photographer Sandy Kim. Ray Lemoine was also a host of this party, and so out of the retro-tinged lobby and holding a glass of rum on the rocks, there he came, still sporting that devilish smile.
"We're leaving town tonight," Ray said, stating a destination that I'll not mention here. He asked me to come with, to join him as he embarks upon exile and, hopefully, asylum, but I had to say no. Tempting as it is to live on the lam in a tropical climate a la John McAfee, I had to return to New York. After an hour of cocktails at The Standard, during which time designers Johan Lindeberg and Francisco Costa hovered in and out of the scene, I left for another party, this time in celebration of the release of the 54th book by Frank, a Paris-themed issue curated by Pigalle.
The very last glimpse I would get of Ray, he was pacing and yelling into his cell phone.
The Frank party took place on a glitzy, gaudy mansion off the Venetian Causeway, with endless wings equipped with swings, hammocks and canopy-laden beds, the magenta-glowing Miami skyline glittering across the water, its neon reflected by the surface of the bay. Loud fashion brats in head-to-toe Hood By Air clogged the sprawling entrance and the back patio, where women casually disrobed and dove into the infinity pool. At one point, Raekwon the Chef, a member of the Wu-Tang Clan, began to give an impromptu performance. Later, we were sitting next to Raekwon. I asked what this house reminded him of.
"The movie Blow," he said.
"I was thinking Scarface," I said.
"But it's a great time here," Raekwon continued, looking around. "There's nice pretty women, good music, good food, a lot of breasts. Art Basel weekend is really starting to grow on me."
Grow indeed.
"The house is fly," Raekwan the Chef continued. "It's a house party, and they picked the right house. They even got waterfalls! Waterfalls!"
Yes, they even had waterfalls at this Miami Beach mansion, but I had to get back to Collins Avenue, so I left with friends for a long, late dinner at the Delano, followed by dancing at Le Baron, where French-speaking slick kids bopped to house music. We chased that shot with a trip to Mac's Club Deuce, the most famous dive in Miami. I knocked a few back and went to the hotel.
By the time I awoke Sunday, TMZ had named Ray as the attacker, and by the time I was back in New York, the Daily News quoted him as saying he was en route to Cuba, where he would protect himself from Paris Hilton (who is apparently suing Ray and Lindsay) and her family, having been granted asylum by the Castro administration. He would live in an embassy, and fancy himself a Snowden, an Assange.
By Monday morning, however, TMZ reported that an arrest was imminent. I texted Ray to tell him, wherever he may be, that he may not be free for much longer. I know no clue as to whether he had cell service. I assumed I was texting into the void.
To my surprise, he sent a brief response. It expressed his exasperation at the cops chasing him with a simple and unprintable three-word phrase.
[Photo credit: Getty]
Nate Freeman is the Editor-in-Chief of Good To Be Bad. His writing has been published in The New York Times, The Wall Street Journal and The New York Observer.