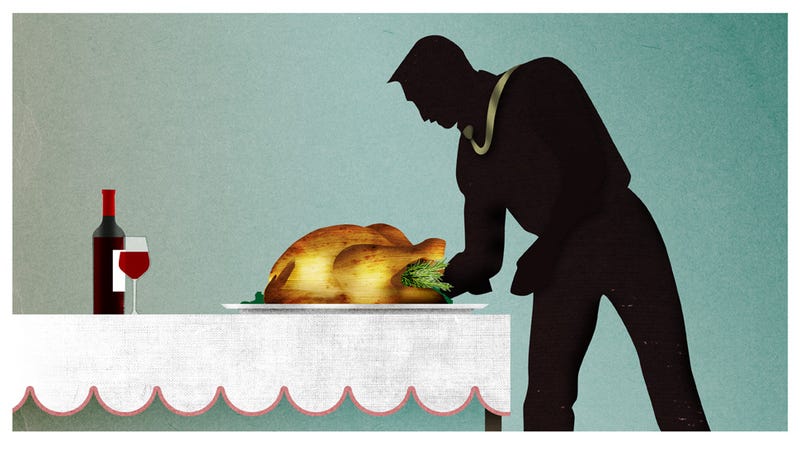 Let's get one thing straight: it's always a good idea to roast a chicken. There's nothing like the satisfaction of pulling a giant yardbird from an oven — crackling, crispy skin, the drum sticks poking out and the whole thing smelling like something wonderful. What is that smell exactly? It's the smell of victory.
Well, ideally, this is what happens when you roast a chicken. But there are some who have lost sight of the path long ago — people who, for instance, leave the bird-killing to someone else, or someone who skimps on the butter. It's time to lead them back to the light. It's time to let the world know how to roast a chicken.
First off, you need a living, clucking, jowl-swinging chicken. There he is, hopping around —happy, content. He has no idea just how little time he has left to live.
Or, perhaps, a freshly killed chicken has been bequeathed to you, courtesy of an attack by certain agile jungle cat? It's not the chicken's fault it was hanging out on some car or something. It was a sitting duck for an animal like a jaguar — or, well, a sitting chicken. Anyway, if that's the case, take that unfortunate fowl and proceed.
Now, here, we won't get into specifics of things, like, how much thyme to toss on the roast, or what temperature to preheat the oven. You're a grown up — you can figure these things out yourself. But we do need to go over a few particulars that you might have forgotten about. First off, there's the stuffing, which is not that complicated. It's just a lot of foie gras, with cubes of French brioche and black truffle mixed in. This all goes inside of your little guy. Put a lemon inside, too, and a whole bush of rosemary. Then stick it in the fridge so the stuffing can firm up. Wow, this is a lot of work! Take a break and have a drink. Maybe a second drink, too. Wait, is Taken on? Well, you have to watch some of that. Liam Neeson, dude.
Half of the bottle of whiskey is gone when you take the foie gras-and-truffle-stuffed beast out of the fridge. You baste the entire thing with enough butter to make a cardiologist faint, then stick it into the oven. While you wait, well, have another drink and bask in the glory that is your cooking.
A few minutes later, your chicken is ready for feasting upon. Let your guests shake with jealousy at your chicken roasting ability. Savor every bite. Wash it down with red wine. Then find a post-dinner activity. Wait is Taken 2 on? Liam Neeson, dude.
Not in the mood to make the dish yourself? Here are five excellent roast chickens in New York City, made by #Goodtobebad-approved chefs.
Brick Chicken at Marlow & Sons — Chef Sean Rembold
Pollo al Forno at Barbuto — Chef Jonathan Waxman
Chicken for Two at The Nomad — Chef Daniel Humm
"Million Dollar" Whole Roast Chicken for Two at The Standard Grill — Chef Ron Rosselli
Whole Roasted Chicken at Commerce — Chef Harold Moore
Image by Michael Erazo-Kase
Nate Freeman is the Editor-in-Chief of Good to be Bad. His writing has been published in The New York Times, The Wall Street Journal and The New York Observer.
Read more Good To Be Bad here.

This post is a sponsored collaboration between Jaguar and Studio@Gawker.