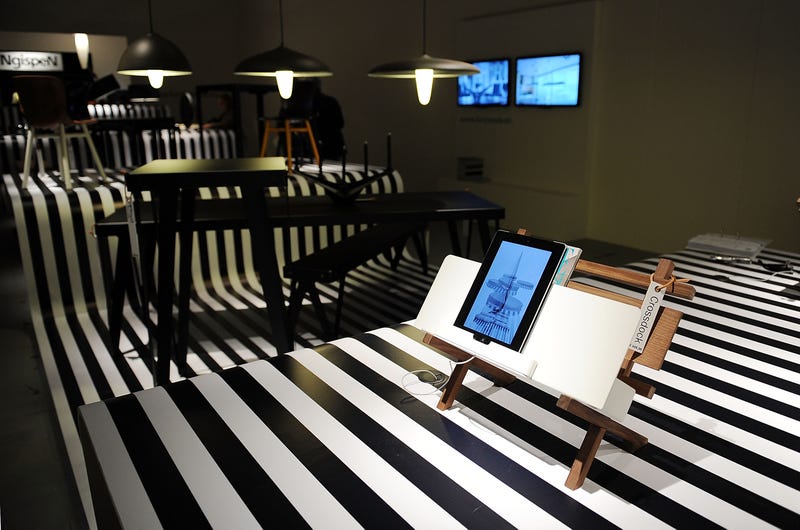 There's nothing as disheartening as the thoroughly mediocre apartment setup. Such a design is assembled with perfunctory sloppiness, devoid of personality. You know the look: scattered sports magazines on a grubby table, a Seamless bag on the ground, some lame movie posters on the wall.
It is essential that you avoid anything approaching such a desperate situation. When a new visitor — perhaps someone you want to impress — walks into your apartment, everything must be in its right place. We're here to help.
The first step is to have a fully stocked closet, its door slightly ajar because you're not a control freak. Who are we kidding — the door's slightly ajar because you want this visitor to see what's inside it. You have the requisite row of smoking jackets, tweed jackets, and leather jackets. You have sport coats. You have receipts from elegant bars in far-flung locales in the pockets of these sport coats, but your visitor won't see those (not yet, at least). She also won't see a huge shoe collection. If New York's richest man only has two pairs, you don't need twenty.
Next, the posters. Odds are you have terrible posters. A Reservoir Dogs poster does not make you a movie buff. A Water Lilies poster does not make you an expert on fine arts. Why not spend a little money on a vintage poster, or cough up some cash for an autographed print and get it framed? And buying actual art would be a nice touch. Don't overdo it, though.
Now, for furniture. Here, the appearance is key, and comfort is secondary. Leave the beat up worked-in extremely loungeable couch in the frat house. You purchase places to sit like an adult now. Is that chair supposed to be so uncomfortable? Well, yes. It's called good taste. It's also called intimidation.
Tables are spare, apart from a few stray issues of fine magazines — Monocle, Harper's — and an art book that belonged to your grandmother. Naturally, those aren't the only books. You have a shelf, a modest one, and its selection is impeccably curated: There's a good smattering of poetry and essays and semiotics and recent fiction. With all this reading material, who needs an Apple TV rig with all the streaming outlets attached? Well, you do. Get one.
Also, it's as cold as a refrigerator at all times. Cold like a museum is cold.
The kitchen is built for utility. Ideally, guests would never see it at all, as you can dash inside to fix a snack or a cocktail. And when you make meals for yourself, it doesn't have to be fancy or pretty. Don't buy a Japanese knife set. You're not on Iron Chef.
Lastly, you have to get your hands on a decent speaker system. Don't sit around your apartment on your headphones like you're at Starbucks. What a way to live a life. Score some used speakers from a legitimate stereo store, perhaps from the '70s. The sound will be more warm. It's a nice touch.
And that's your guide to a slightly devious, ultra-smart apartment design. Yes, it's not just stylish, it's aggressively stylish. But, no doubt, your visitor should be impressed.
[Photo credit: Getty.]
Nate Freeman is the Editor-in-Chief of Good to be Bad. His writing has been published in The New York Times, The Wall Street Journal and The New York Observer.