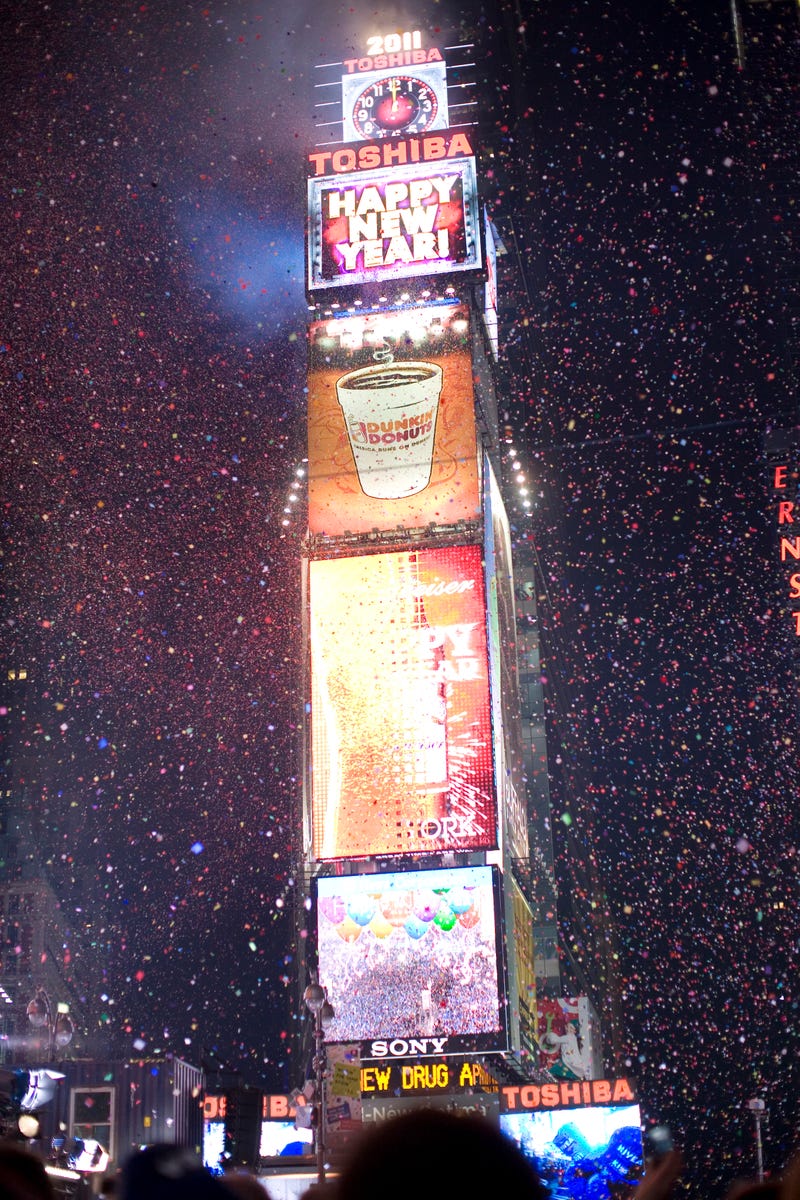 For a city as busy, bustling and messy as New York, the place gets so many things gloriously right. Like pizza, for instance, but also pastrami, and Christmas at Rockefeller Center. The Met is one of the world's great museums, Grand Central one of its grandest transportation hubs. New York even manages to throw a civilized St. Patrick's Day party, unlike our neighbors to the north.
But when it comes to New Year's Eve, New York City drops the ball. (Yes, we know it actually drops the ball in Times Square, but what we meant by "drops the ball" is "makes this night a horrible experience for most people who decide for some reason to be here.") Why does a holiday beloved by revelers the globe over have to be a unending headache? Resistance is futile. Times Square is a special vision of hell. Every bar from Murray Hill to Clinton Hill is packed and overpriced. The city's so congested that hailing a cab is impossible, and ordering an Uber will bankrupt you. Hooray, New Year's! No.
We have a solution for you. We're going to tell you how to actually enjoy yourself tonight. That is, we're going to tell you how to comport yourself like a proper villain on the last day of the calendar year.
First, you lunch. Notice that because it is nearing three in the afternoon — and because you aren't eating a super-sweet bread thing — this is decidedly not "brunch." You've made the choice to no longer eat fake meals with fake names. At this lunch, you'll convene with a few colleagues, sans girlfriends, and never once glance at the menu. You know what you want. After an hour or so, steak tartar arrives, and you eat. In silence.
The afternoon is spent fielding invitations to parties from various acquaintances. Will you be in attendance? "Maybe," you say, leaving your options open. There are lots of choices.
(Also: it goes without saying that these events, as well as the events to follow, will all take place a healthy distance away from Times Square, which we'll refer to with clear disgust as there. The ball drop in Times Square is a horrible spectacle that must be avoided at all costs. In fact, you better just stay below 14th Street. Below Houston, if possible. Under no circumstances will you even entertain the idea of going there.)
Somehow, evening segues into night, and you put on a suit for dinner with the girlfriend. Nothing too fancy here, it's not an anniversary, it's not a serious holiday, just a inflated excuse to get sloppy drunk. But you'll have to eat.
Then it's time to party. Things to avoid: bars, clubs, concert halls, lounges, and hotel bars (but hotel rooms? Sure. Hotel parties are fine).
Why, you ask, should you avoid these cocktail factories on a night when making a wasted mess of yourself is not only acceptable, but encouraged? Because the drinks are watered down and their prices are jacked up, every place is stuffed with poorly dressed hooligans, and they can be impossible to escape.
The ideal situation is a party at a reasonably sized apartment. Perhaps at a loft, or something equivalent. It's a party with room to breathe, ample libations, old friends and new people to meet. Have a cocktail or two (please, don't be the drunk guy) and watch people watching you (they're watching you because you have on a good suit, and you are interesting, and you've managed to be completely at ease during this stressful and complicated holiday, in a city that gets this holiday terribly wrong. Why are you so sure of yourself? Because you comported yourself like a proper villain, of course).
Then, after a dashing swooped-down low-dip kiss at midnight, you have another drink or two, then burst out into the freezing night at not too late an hour, to beat the crowds home. You did it.
So, you see, it is possible to have a satisfying New Year's Eve experience in New York City. But for God's sake, don't go to Times Square. Don't go there.
[Photo credit: Getty.]
Nate Freeman is the Editor-in-Chief of Good to be Bad. His writing has been published in The New York Times, The Wall Street Journal and The New York Observer.