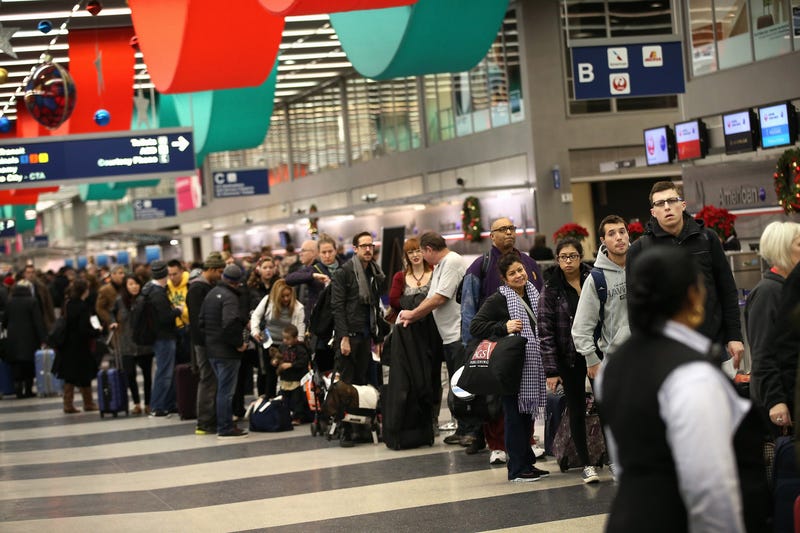 Amid the cheer that surrounds this season is the lingering fear of the hell that is traveling long distances during this season. For many, it defines the holidays entirely. The security lines, delays and pushy passengers on planes are the first things to come to mind when someone says the word "Christmas." The stress of holiday travel is anything but stylish.
But it doesn't have to be this way. With just a few slightly devious tricks, you can be zipping across the country in comfort — and look great doing it. Last time we checked, dangerous minds don't wait in airport lines.
Breeze Through Security Lines
First, you should apply for the TSA's PreCheck service. You'll be accepted, of course, because you're an American citizen and you've never been arrested for a felony (at least, not one you've been caught for). To apply, you fill out a questionnaire, submit to an interview, and hand over fingerprint scans. It's kind of like that time you applied to the CIA. And what does this TSA stamp of approval get you, besides cocktail party conversation fodder? You can waltz to the front of the line and keep your belt, shoes and jacket on. There's no awkward shoe tying for you.
Kill Time with Class
Which brings us to another inevitability of this most lovely of season: interminable and constant delays. It's wonderful that you arrived an hour early, but now the flight is delayed two. You have three hours to kill in an airport full of people even angrier than you are. Here's a pro tip: treat yourself. It might not be a Steak Diane at "21," but you can get a decent meal and martini at most terminals. Just look for the most expensive spot. And don't spend your never-ending hours squinting at your smart phone's tiny screen. Buy a book. And I don't mean the pulp stacked in the front of the store — go to the back, find something by Graham Greene, and devour it. Buy a few newspapers while you're at it. Stay informed about Syria. It's important.
After a nice meal, it's time to pamper yourself further. Have a long unnecessary shave, followed by a long unnecessary haircut, and finish off with a shoe shine. This probably goes without saying, but naturally you're wearing a suit. Flying was once a thing adults dressed up for, like the opera, and one should always honor that tradition. Thus, you naturally have on nice shoes, and they deserve a classic shine.
Be Not Afraid to Bribe
Finally the time has come to board. If you didn't have the foresight to book first class already, you might be in trouble. There's a decent chance you'll be placed next to a mewling baby, a very large man, or both. While stealing a more attractive seat and playing the "Oh, I lost my ticket with my seat number" game could work, a more foolproof plan involves asking someone to switch with you. There may or may not be a fifty dollar bill in your hand as you ask them.
Take an Alternate Route
There are two ways of avoiding airport pains all together during the holidays. One would be to take the train. Sure, this is not ideal for everyone, but if you're going from Washington to Boston, say, and don't mind losing a few hours, the train is a satisfying, wholesome way to travel. The free WiFi never hurts, there's more room, the countryside views can be splendid, and you arrive in the heart of the city, not at an airfield that's 45-minute cab ride away from where you need to be.
But the way to best avoid travel that most blasphemous option: you book your flight on an actual holiday. Hey, you can only spend so much time with relatives.
[Image by Getty.]
Nate Freeman is the Editor-in-Chief of Good to be Bad. His writing has been published in The New York Times, The Wall Street Journal and The New York Observer.