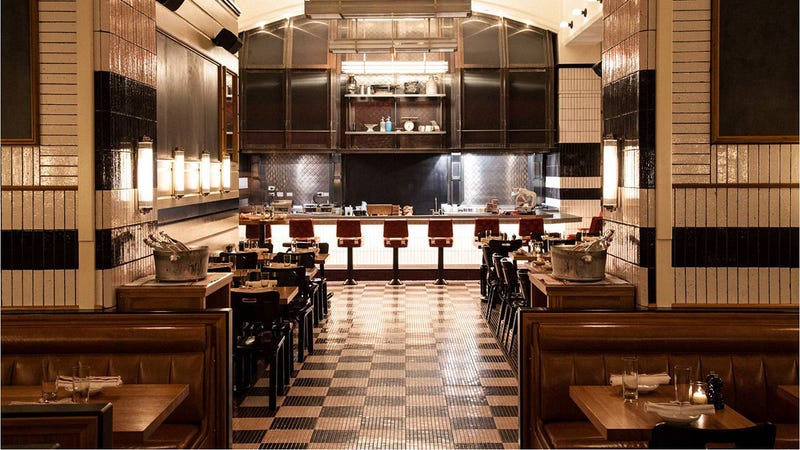 One rarely has reason to drink a gin and tonic in the winter. It's a summer cocktail, best enjoyed against the scorching burn of a hot sun while sitting at a pool bar, and kept on the shelf during the winter months. We have scotch whiskey to warm us up.
Kingside — an elegant eatery in the new Roman and Williams-designed hotel, The Viceroy — is aiming to change that. The refined bistro, which boasts a 32-seat bar and stunning chessboard-like floor tiling, has embraced the nautical, Old World empire feel of the hotel by making its own tonic water, producing a concoction that hearkens back to the origin of the life-saving beverage. Picture a British emissary living abroad in the colony of India, at the peak of the empire, sitting back in an all-khaki outfit and gazing out onto the conquered land, sipping slowly on a ice-less gin and tonic. (As an ambassador explains to a bartender that in The Year of Living Dangerously, only Americans drink their gin and tonics with ice.) And back then, it would have been a very healthy cocktail: the quinine in the tonic helped stave off malaria, and increasing problem in the new places claimed by Britain. As Winston Churchill said, "Gin and tonic has saved more Englishmen's lives, and minds, than all the doctors in the Empire."
This history is clearly referenced in the deep array of gin cocktails, and when I received a tour of the hotel, which rests on 57th Street just below the Park, I sat at the marble bar for the signature drink. It was a gin and tonic marked by finesse, with a bitterness that enhanced the juniper, something with real body and not just a refreshment.
The rest of the hotel continues to that effect: the Viceroy is a light frivolity muscled up by strong enhancements and a stylish masculinity. There's a subtle bit of cologne blasted through the air, and the walls feature nautical accent notes such as port hole windows.
Though the primary highlight is not on seal level but up on the roof, which offers a view of the Park that's pretty breathtaking, the rolling green fields unfurling after two blocks of classic Manhattan high-rises. Just don't have too many gin and tonics before you head up. The guardrail is slightly short.
Nate Freeman is the Editor-in-Chief of Good to be Bad. His writing has been published in The New York Times, The Wall Street Journal and The New York Observer.