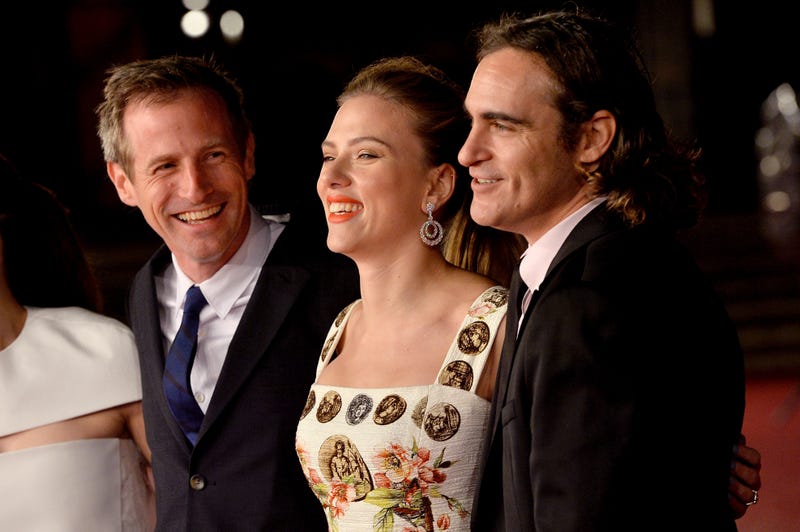 In Her, the new Oscar hopeful written and directed by the auteur Spike Jonze, an early scene shows Theodore Twombly, played by Joaquin Phoenix, sitting in front of his computer. He's answering questions that will program his new operating system, which is voiced by the never seen Scarlett Johansson, and there's one that gives him pause.
"How would you describe your relationship with your mother?" the computer asks.
"Well, I, um—"
"Thank you," the computer responds, after receiving a sufficient answer.
The line got a few chuckles at the premiere last monday, at the Landmark Sunshine, where a few dozen designers, writers, artists and other downtown figures of notable repute took in the film, which opens in New York on Wednesday.
"I wrote it at my place, just a few blocks away from here," Jonze said in his introductory remarks. "This is my local theater."
I was thinking about the that vaguely Freudian bit of Jonze-penned dialogue at one moment midway through the premiere's after-party, at Sons of Essex on the Lower East Side. Sons of Essex is a perennial after-party spot and it's chosen, perhaps, for its abundance of discrete nooks and crannies: perfect places for celebs to commingle relatively unnoticed. On Monday, that included David Cross, Natasha Lyonne, and Jeremy Renner (who had nothing to do with Her but stars in American Hustle, which premiered the night before).
The party was hosted by Vice — the magazine known for its hard-hitting exposes of foreign drug subcultures and other Pulitzer-worthy journalistic pursuits — but, unlike other Vice events, which usually feature activities that mirror the magazine's content, this was a tame one. A rager would be an inappropriate way to celebrate a film about a man who falls in love with, essentially, Siri.
Anyway, when Jonze walked in, he was accompanied by a woman significantly older than himself, short and with white hair. This seemed intriguing. I approached Spike, told him how much I love the movie, and added as an afterthought that we had attended the same high school, Walt Whitman.
"Oh, have you met my mother?" Spike responded.
Ah, yes, his mother. It appeared that their relationship is anything but shaky (unlike the young-ish men who chuckled nervously at the film's joke) as he had indeed brought her as his date to his film's premiere. I turned to the older white-haired woman and said hello.
"Were you in Spike's year at Whitman?" she asked.
No, I said, he's a little older.
"Well, I think it's his best film yet," she said. "It's on all the top lists."
I told her the film was excellent, and asked if she's still in my hometown. Alas, she's since moved to Wall Street.
Jonze worked the room for a while. Then Joaquin Phoenix arrived stag, but not for the normal reason: his girlfriend Allie Teilz is just 19, and had to be embargoed in by a duo of intrepid publicists. Once inside, she looked ever the part of the manic pixie dream girl, short blond hair and all. Is it a bit brazen for a man approaching his forties to openly date a girl who's 19 and looks even younger? Such matters of taste certainly didn't bother Phoenix. After dashing through the party, the couple left for Fig 19, another dark lounge on the Lower East Side, where Ms. Teilz would almost certainly defy the law and get away with ordering a drink.
[Photo credit: Getty.]
Nate Freeman is the Editor-in-Chief of Good to be Bad. His writing has been published in The New York Times, The Wall Street Journal and The New York Observer.