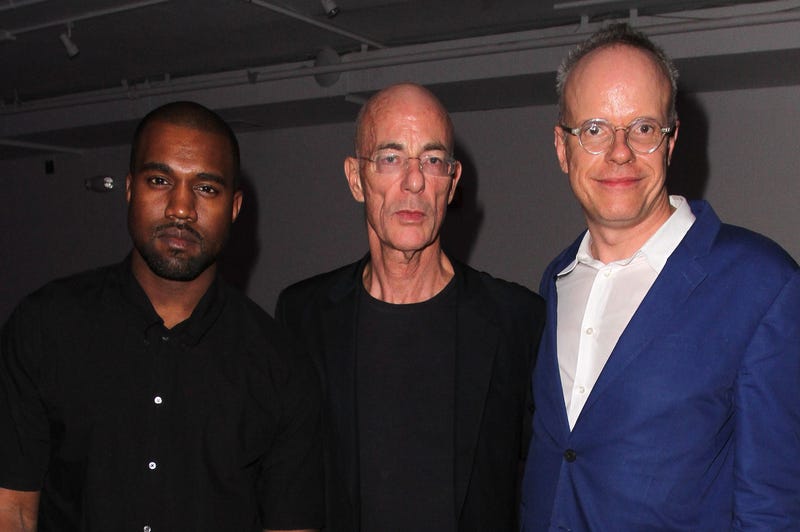 A pall of fog fell upon the bay beside the Venetian Islands, a small archipelago among the blue-washed isthmus of Miami Beach. It was extremely warm, a climate that's simpatico with the mission here at Art Basel Miami Beach — the heat can cause delirium, and delirium means more sales.
But by nightfall the sales were over, and it was time instead to spend a few hours quizzing fellow party attendees about what other parties they were attending after this current party. Such was the case at The Standard — the hotel jutting out above an atoll on the Venetian Islands — for the Cocktails and Curators event, which honored Klaus Biesenbach, curator of MoMa PS1. Klaus Biesenbach is a towering Teutonic white-maned figure who confounds and convinces in a single sentence. For example, here's Klaus Biesenbach, on stage with director Spike Jonze and Diana Widmaier-Picasso, accepting his award for curatorial excellence:
"I actually don't know why I'm being honored — or who's honoring me," he said.
Noted. The devilish smile of Mr. Biesenbach walked off stage, and I decided to leave, off to watch another ego expound on art and design: Kanye West was to engage in a colloquium with Jacques Herzog, the architect behind celebrated firm Herzog & De Meuron, moderated by another impeccably manicured European intellectual, Hans Ulrich Obrist.
Well, that was the plan, but Mr. West happened to be over an hour late. Naturally, no one left. Everyone wanted to see if Kanye West showed up, whether he would deliver a bizarre sermon on American ethics, music, Kim, all of that. One guest likened the scenario to a hostage situation.
Around 10:30, Kanye West took the stage with a smiling Hans Ulrich Obrist and Jacques Herzog, who was looking cadaverous with sunken cheekbones and a frail frame. The celebrated architect and moderator attempted to talk, but at a certain point, they simply yielded the floor to Kanye West.
"When I saw this one lamp, this one Corbusier lamp that's now in my apartment in Paris, it was made of concrete but looked really modern," Mr. West said, "My girlfriend saw it, and she really liked it too. She had always questioned my taste before, because my Claudio Silvestrin apartment in New York is really minimalist that it has no femininity whatsoever, it's hyper masculine, except for like maybe a canvas couch or something. When she saw this lamp, though, she really liked it. It was made of stone and concrete, to be put in this zoo for everyone to see, and that really inspired me, as like a mission. I had been given art through sonics, but we're held back by the amount of information given to us. I Google — well, I know not to Google because they could come and completely ruin my life! — but the pictures that pop up at the top are not the highest level of information for people to get educated. I like the fact that the Corbusier lamp cost so much for me as a rich person, but it was made for poor people. When we did the Watch The Throne tour, we had the two cubes come up, and we had the VIP in front of one of the cubes, and when we would start the show, the second cube comes up, and completely fucks up the view for all the VIPs!"
The crowd of bottle blonde Miami women in Gucci dresses, many of whom were standing behind pillars, chuckled nervously. Many others chatted by the bar as if Kanye West wasn't actually talking about lamps, heart surgery and the NSA.
The talk ended, and after a beer at Michaels with a few design journalists at Surface magazine, I walked over to Silencio, the pop-up version of David Lynch's nightclub in Paris, which had taken over two floors of The Moore Building in the design district. Sure, this southern outpost of the otherworldly bar in the Montmartre lacked the sheer zaniness of the original, but it made up for it in audacity. Around midnight, after the crowd has consumed an unholy amount of Grey Goose, the fuzzy creations of artists Takashi Murakami started sauntering through the crowd of Basel all-stars. They were the monsters from "Where the Wild Things Are" mixed with Japanese Manga, and big enough to haunt your dreams.
It was around this time that a friend texted to say he was rolling up with Lindsay Lohan, only to say a few minutes later that they had driven up and then immediately taken off — Justin Bieber was at LIV, back in Miami Beach, and that's where Lohan wanted to go.
Soon a voice echoed through the main floor of the Silencio pop-up.
"Takashi!" Pharrell Williams said, looking out into the crowd. "Takashi, where you at? Ah, there you are. Get over here. Takashi, he's one of the greatest geniuses of our time. Now, we're gonna form a line, me and Takashi, and everybody's gotta follow. You too, Diddy!"
Puff Daddy, standing on a banquette in the back, pointed at Pharrell and started doing a wiggle dance, clapping his hands, but decided not to join the conga line behind Pharrell and Takashi Murakami.
I joined the conga line behind Pharrell and Takashi Murakami. In fact I joined right behind them, so when Pharrell started singing "Blurred Lines," I was on stage next to Murakami himself and his megadealer, Emmanuel Perrotin.
Takashi, who was wearing a pink octopus hat and a jacket with pink bulbs all over it, was smiling.
"I love this song!" he exclaimed, as he lifted his iPhone to take a selfie with Pharrell in the background.
"You know you want it!" Pharrell sang. "You know you want it!" the crowd repeated back.
"Now, this next song's for Diddy," Pharrell said, pointing again at Puff Daddy. Puff Daddy did his little dance. "I've had a very good year," Pharrell said.
And with that he launched into "Get Lucky."
After Pharrell finished singing, Silencio cleared out. It was time to go to another pop-up of another Paris-based club, Le Baron, in the Delano Hotel, back on the beach. I stayed there late, with a brief stop at Chez Andre across the street, watching the cut-jawed collectors drink away the night before another day of spending millions on art. Does one have to be despicable to take part in Art Basel? Is there any redemption behind this giant ceremony of wealth and excess and snobbery?
I'll stick around and drink with the art crew for a few more days and find out.
[Photo credit: Getty]
Nate Freeman is the Editor-in-Chief of Good to be Bad. His writing has been published in The New York Times, The Wall Street Journal and The New York Observer.