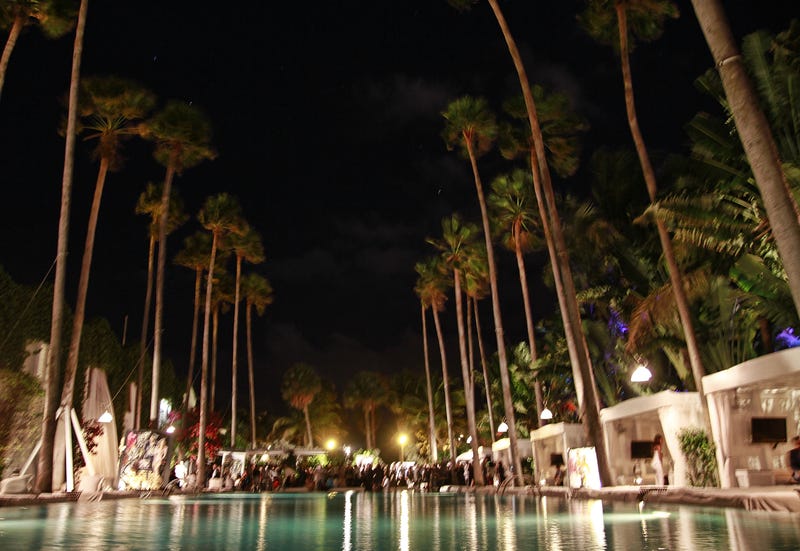 South Beach, the Art Deco-lavished island just east of Miami, conjures memories of sunny days: palm trees flapping overhead, day-glo prints dotting the sidewalks, men in sunglasses driving red convertibles that mosey up the avenues.
But at Art Basel Miami Beach, there's no sunlight. The real action happens after it gets dark.
This week, the jet-setting titans of the art world descend upon Miami for a few days of cavorting among their moneyed peers. Shark-eyed collectors armed with hefty checkbooks will casually blow millions on smashing examples of ink on canvas, zip around in exorbitantly expensive cars, wander through endless dinner parties and cocktail parties and brunch parties, and maybe spend the intervening hours on a yacht, bored. Perhaps the bankers here are unloading Old Masters to pay off a divorce — or penalties from the SEC. Or maybe the buyers are snapping up something before completing another oil deal in Dubai. The reasons for being here in Miami are myriad. The fancy parties, that's one of the reasons.
There are a lot of parties. So pervasive is the constant Art Basel open bar that any enterprising young nobody can secure a free vodka or ten. But doesn't that sound awful? It's a much better idea to stick to the real parties, the best ones, where galleries from Paris to Los Angeles to Rio can celebrate their success with all the subtlety of a fifty-foot Jeff Koons puppy.
Tuesday
Tonight, after a few hours of successfully avoiding the actual art at Art Basel, the sun goes down and the events begin. Tracey Emin, the British provocatrix with a show opening on the mainland uptown, will get in bed with Vanity Fair for a party at Soho Beach House, which is like Soho House but with guests tracking in sand. And there's also the Best Buddies auction, hosted by polo-playing billionaire Peter Brant (the guy who actually owns the fifty-foot Jeff Koons topiary-covered puppy).
Wednesday
Wednesday continues apace, with a smattering of requisite fashion dinners — Swarovski, Louis Vuitton, Vionnet — that may be overshadowed by the sheer ego of one Kanye West, who will perform with collaborator Vanessa Beecroft at Mana Wynwood Studios. He will probably say a little thank you to the audience. The audience, in turn, will dismiss these few words as a "rant." All this is capped by the one-night-only party at Silencio, a pop-up version of renegade filmmaker David Lynch's nightclub in Paris. I like the Silencio in Paris. It's all neon, and there are plenty of dead end hallways. Also: dwarves serving cocktails, double mirrors, gold libraries, plastic rainforest canopies. When I was there in June, slick French businessmen were standing around not dancing to "Get Lucky." Now, Pharrell Williams is hosting the party at Basel. These parties, they work like a Mobius strip.
Thursday
On Thursday, after hopping from one Champagne brunch to the next as morning segues into evening, one may attend any number of events that will at least be intriguing enough to lure the fabulous buyers from the beach. Artsy, that adorable startup, will have a dinner for the new John Baldessari Studios at CalArts, VFILES and Dis host rapper A$AP Rocky at Story for a liquor-soaked bash that will start well after the more meek collectors have headed to the Ritz for bedtime, and megacollector Aby Rosen has his annual feast at the W South Beach. Plus, Wallpaper* Handmade by Jaguar makes its US debut. And George Clooney might show up to a W Magazine event, as he's on the cover. But he could just skip the thing if he feels like it. He's George Clooney.
And remember our friend Jeff Koons, the one with the very witty puppy structure? He decided to fly under the radar and design a bottle of Dom Perignon he calls "Balloon Venus" the retails at $25,000. There's a big party to celebrate that. Nice work, Jeff.
Friday
On Friday, in perhaps the week's most hilarious instance of hubris, Galerie Perrotin teams with Audemars Piguet for a party that will take over the Miami Marine Stadium, on the remote island of Key Biscayne, and feature an installation of ski chalet floating in the bay. Later into the night, one can check out the Le Baron pop-up if they want to see petulant grown men whining like children at the velvet rope (and also want to see extremely wealthy grown men palming the doorman two $100 bills at the velvet rope).
And then Saturday, alas, it's over, Art Basel petering off into the last few dinners and pop-up clubs. Maybe use the time to actually make it to the convention center, where the actual art fair is taking place. After all that nefarious racing around at night, maybe it's time for an hour or two of sunlight.
[Photo credit: Getty]
Nate Freeman is the Editor-in-Chief of Good to be Bad. His writing has been published in The New York Times, The Wall Street Journal and The New York Observer.