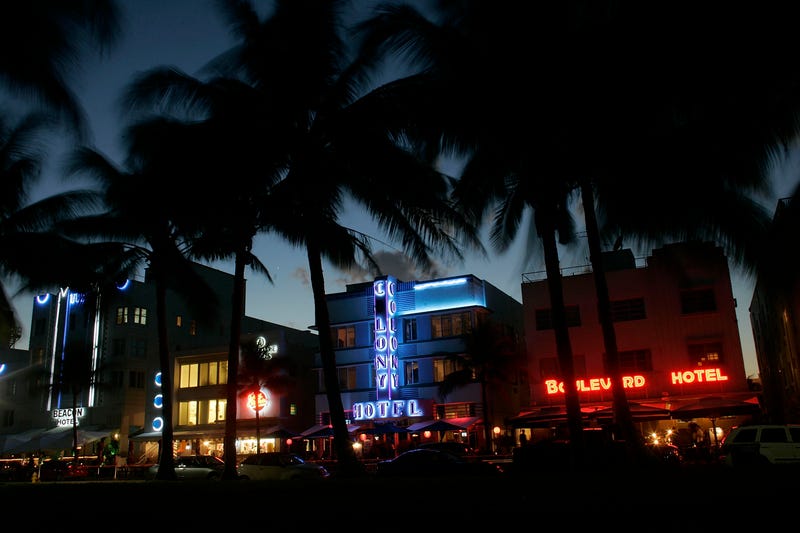 At a certain point, the warm and agreeable excess embraced by Art Basel Miami Beach took on a distinctly darker tint. I can't say I minded the sense of danger, really, but it was palpable. By the time the weekend rolled around, Miami's underbelly — warring celebrities, men on the lam from the police, disillusionment with the art on display, flashy cars barreling super fast over bridges, fatigue from flirting with iPad-wielding door girls, late nights that turned into mornings — began to stain the pristine beaches.
Perhaps it began with a phone call I received while in line at Enriqueta's, a mecca of Cuban food in the heart of Little Havana. It was a friend, Ray Lemoine, calling to say he had left his mansion on Star Island, the luxury atoll between Miami Beach and the city proper, because he was on the run from the authorities. They wanted him because Paris Hilton's brother, Barron, had gotten in a fight at Ray's house.
"I might be in some trouble," Lemoine said.
I assured him everything would be OK. I know Ray well, and though he has a reputation for courting skirmishes with the rich and famous, he's always been smart and nimble enough to escape unscathed. This time there was a caveat: Lindsay Lohan — who, as I've learned the hard way, can summon trouble with nothing but her presence — was staying with Ray and a few other people in the Star Island estate. Sure enough, a TMZ report soon came out about the Barron Hilton beat down, claiming Lindsay Lohan ordered the hit on the Hilton kid, asking an "accomplice" to carry it out. The accomplice, allegedly, was Ray.
Apparently this had happened the night before, after the VFiles party with a performance by the rapper A$AP Rocky. (I couldn't make it to the show as I was ensconced in a glowing cube of Champagne consumption — perhaps my absence turned out to be for the best.) As the sun came up over Miami Beach, tempers flared over a kid who refused to leave the house, prompting someone to charge him, and flee after pulling the punches. Once the dust cleared, Ray became the suspect.