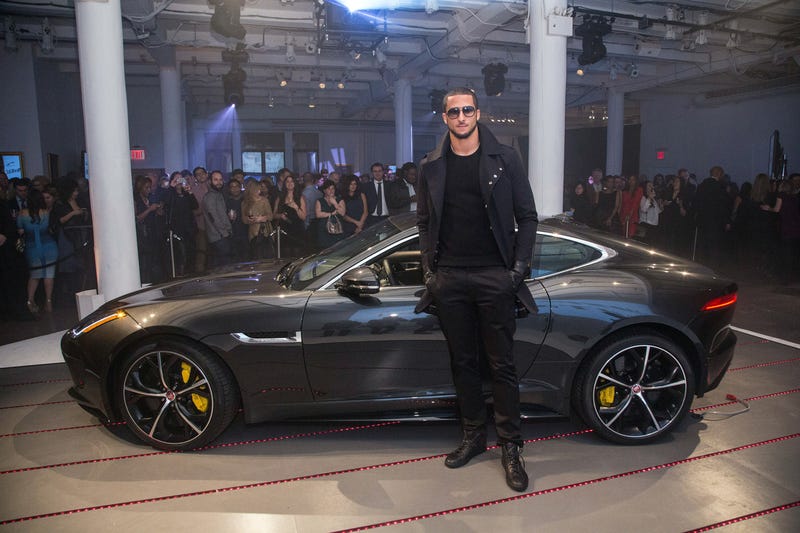 On Wednesday night in New York City, three very, very loud cars were parked outside Skylight West. You can probably guess what cars they were. That's right, they were Jaguars — specifically, tiny little Jaguar F-TYPEs bathed in the red, white and blue of the Union Jack.
Why, exactly, were these head-turning automobiles parked outside Skylight West? Well, there was a soiree happening inside, a party thrown by Jaguar and Deadspin to celebrate what was to be a very lopsided game that coming Sunday night — and to deliver a few surprises that would emerge from behind a sinister black curtain.
But until then, there were plenty of other diversions to indulge in. Models teetering on heels passed around riffs on typical football finger foods — buffalo chicken in a waffle cone, anyone? — and attendees took turns kicking a ball into a net at the punting simulator that sought to answer the most frequently asked question in Deadspin history. Speaking of which, the Deadspin Hall of Fame was spread throughout the room, featuring caricatures of the site's favorite sources, subjects, and punching bags. And there were two open bars.
After an hour of high anticipation — and perhaps some understandable apprehension — the lights cut out, the black curtain dropped, and Jeff Curry, a vice president at Jaguar, came out to present "Rendezvous," the commercial that aired during the fourth quarter of the game. For a frenzied sixty seconds, Tom Hiddleston, Mark Strong and Ben Kingsley zipped around by F-TYPE and by aircraft, devilishly grinning through the circumstances, like a good villain should.
"And now to introduce our fourth villain..." Curry said.
And as he left the stage, a harsh rumbling came from an exit ramp beside the space. It was very, very loud. And we recognized this sound. It was the F-TYPE coupe, with a silver finish, a 550-horsepower engine, and a top speed of 186 miles per hour. The driver pulled it up to adoring cheers, revving it for an even more blissful, metallic noise.
And who was this driver? None other than Colin Kaepernick, the star quarterback of the San Francisco 49ers who led his team to its first big game in decades last year — and was just a pass away from getting there this year, too.