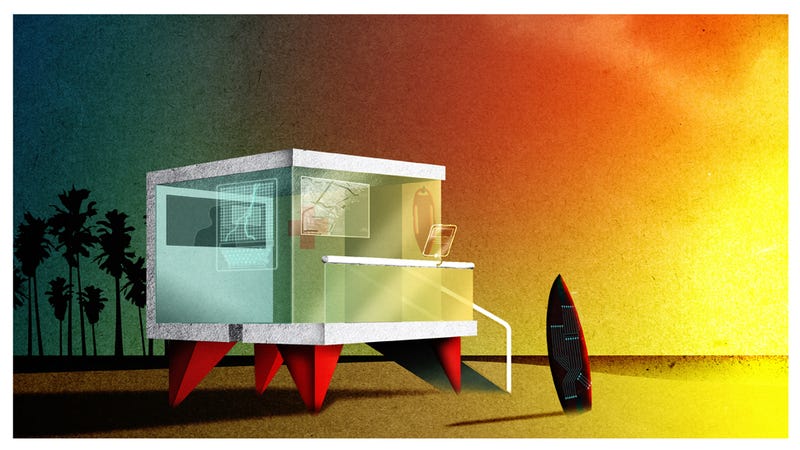 Silicon Valley may still be the reigning tech capital of California, but there's another tech hub in the state nipping at its heels. I'm talking about Silicon Beach, a stretch of Venice in Los Angeles that has become a juggernaut in the last ten years. The biggest Internet overlords have enormous offices there, and the various incubators are fostering a new generation of startups, all sun-kissed and super chill, brah.
Is it good that billionaires with a cadre of bespectacled Stanford eggheads are taking over this classic and historic beach town? Sure, startups are "cool" or whatever, but are they cool enough to hang with the guys hanging ten? There was a perfectly good vibe here before the tech world showed up and crashed the party — the beach, the casual restaurants, there was the occasional screaming drunk person... I liked that Venice.
But still, there's something curious about tech companies settling down in the flashiness of LA. I first became interested in Silicon Beach last week, when I was driving through Venice. I still had the Jaguar F-TYPE convertible, so it really didn't matter where I was going — I just wanted to aimlessly cruise around in the thing. At one point I drove by the so-called Binoculars Building, named for the giant Claes Oldenburg-designed binoculars in the front. Later on, I asked my friend what the building was. He told me it's the home of a certain company perhaps best known for a ubiquitous search engine, and then we started talking about Silicon Beach.

At first, it's a little surprising to think of Venice Beach, a slightly hippiefied pocket in LA of all places, that plastic city stuck in a bubble of makeup and publicity — as a hub for nerdy tech geniuses. But, for a certain type of startup, Silicon Beach makes perfect sense. I guess the laid-back nature of internet culture could exist within the surf-in, surf-out Venice vibe. And it's not like Los Angeles has never birthed tech innovators — think Walt Disney, think Charlie Chaplin. Now there are a ton of digital effects operations headquartered in Venice, and there's no reason why there can't be a ton of crossover with the tech firms. (And, yes, the start-ups in Los Angeles do have the first pass at securing celebrity endorsements.)

So, basically, it boils down to whether you prefer a little bit of sun and glamour over the serious and rainy environs of the Bay Area — a no-brainer, natch. I decided to check out the scene for myself this week. I had just spent a week at Sundance, where the temperature hovered around 20 degrees — so once it got above 75 in the City of Angels, I walked around Venice, a neighborhood where you can break this city's implicit no-walking rule.